The Nuyakuk River Cabin
in Southwest Alaska

We are pleased to provide the experienced outdoorsman with very remote lodging for fishing and exploring in the wilderness of The Last Frontier. We are dedicated to helping anglers and outdoor enthusiasts enjoy the adventure of a lifetime in the Bristol Bay and Wood-Tikchik lake areas of Alaska. This is a very remote cabin accessible only by float plane or boat from the nearest small native village which is about 40 miles away.
We can arrange either guided or unguided fishing, bear viewing and exploring expeditions into many areas of Alaska's untamed wilderness, however, our rental cabin is located on the Nuyakuk River of SouthWestern Alaska.
UNGUIDED TRIPS
----Our unguided fishing or photographic adventures at our Nuyakuk Camp offer lodging in a remote riverfront cabin and uses a bush plane drop off service for the final leg of your trip to camp. The Nuyakuk River is about 250 air miles SouthWest of Anchorage and flows out of the famous Tikchick Lake and eventually into the Nushagak River. The river is crystal clear (non-glacier) and you can watch (or catch) salmon, rainbow, and arctic grayling from the bank in front of the cabin. We operate 1 of only 2 cabins on the entire river.

----The area around the cabin is teeming with wildlife and you can expect to see grizzly/brown bear from the cabin along with many other critters large and small. A firearm for protection is advised. We provide basic cooking equipment, boat(s) and motor(s), lantern, stove and optionally such additional supplies as you would like us to have at the cabin. We make all the arrangements for bush plane flying services necessary for your trip although you must pay the flying service directly for insurance purposes. Guests should fly into Anchorage and then on to the coastal village of Dillingham where your float plane will pick you up.

GUIDED TRIPS
----We can also arrange for full-service guided fishing or photographic safaris at our Nuyakuk River camp with everything taken care of for you, including hearty meals prepared by a cook. Our remote wilderness cabin is located on the banks of one of the best fishing rivers in Alaska. Accordingly you can anticipate some fresh salmon dinners.

As an outdoor company, we will refer parts of your expedition to other companies, particularly air charter services and guiding services, to best facilitate your fishing or photographic trip. For guided fishing trips, we will put you in contact with an Alaskan guide who is familiar with our camp and river.
Travel (by air, boat or foot) lodging and living in bush Alaska can be and is very dangerous. Accordingly, you must assume ALL RISKS in booking one of our adventures (whether guided or unguided) and there are no warranties or guarantees as to the success of your expedition.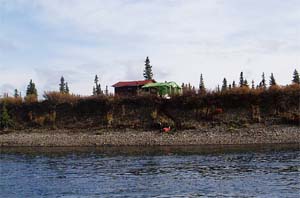 Please contact us so...
The Adventure can begin !